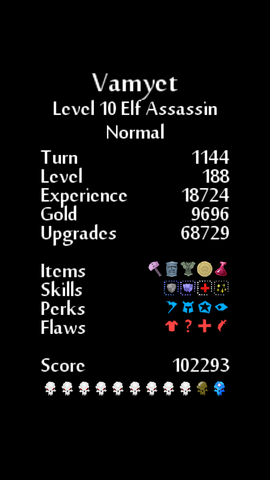 Similar build to other posted high-score here.
Edit
Went with shield build, but used grab potions instead of grab shields, since the combo makes it easy to select all shields anyway. The ability to clear potions meant being able to get maximum shields with the combo, AND meant full life refills lategame, which made a big difference. I could have kept going, but it was an unlucky run, with only 19 blunting total.
Had:
400+ regen
2100 HP
~280 spike damage
Max pierce, armor durability, and lifesteal.
File history
Click on a date/time to view the file as it appeared at that time.
Ad blocker interference detected!
Wikia is a free-to-use site that makes money from advertising. We have a modified experience for viewers using ad blockers

Wikia is not accessible if you've made further modifications. Remove the custom ad blocker rule(s) and the page will load as expected.